About Us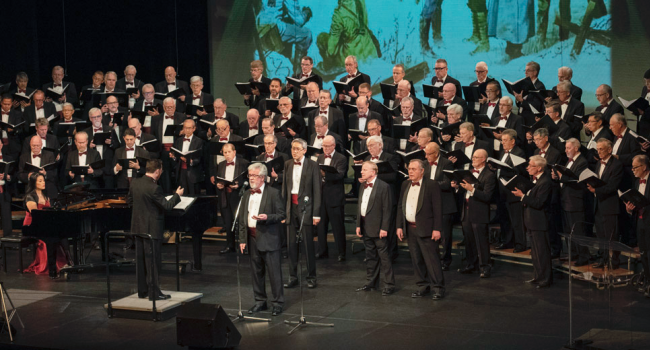 Who We Are
We are an auditioned choir of amateur singers with a 100 member roster, led by professional musicians.
Travel
We travel annually throughout British Columbia and have toured Alberta, New Brunswick, Nova Scotia and Prince Edward Island. International travels include the United States, England, Wales, Holland, Germany, Australia, New Zealand, and Russia, and central Europe with concerts in Berlin, Dresden, Prague, Salzburg and Vienna. We've represented Canada at Expo '86 in Vancouver, Expo '88 in Brisbane, 1995 ceremonies in the Netherlands marking the end of World War II in Europe, and the 300th Anniversary Celebrations of the founding of St. Petersburg, Russia.
What We Do
We rehearse every Tuesday evening from September to June at the Cambrian Hall in Vancouver, perform concerts locally, regionally, and worldwide, and hold social events for members.
Community Focus
We present 15 to 18 concerts per year and perform benefit concerts helping to raise thousands of dollars for charitable causes. Our Community Outreach Program provides free admission to some who lack the funds to attend our concerts.
Building Into the Lives of Young People
We encourage youth involvement in choral music by inviting outstanding secondary school choirs to join us in many of our concerts. We also involve students from UBC's opera program in our concerts on a regular basis.