Stout Hearted Men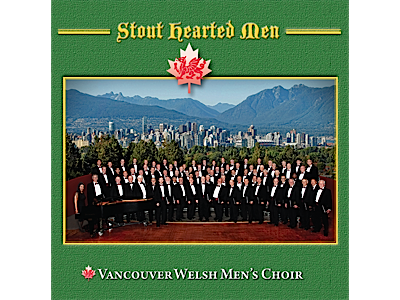 We titled this CD to reflect on the idea that men, and in particular, groups of men, can accept a challenge and work together to achieve something remarkable. The fictional gusto portrayed in the "New Moon" operetta  through the lyrics and rousing arrangement of "Stout Hearted Men" established it as an enduring and thought-provoking piece of entertainment.
The Vancouver Welsh Men's Choir came together, in a similar way, as a few men who missed the gusto of singing back home in Wales ...and decided to do something about it "You who have dreams, if you act, they will come true".
"Start me with ten who are stout-hearted men" was a fitting beginning in 1980. Finding a willing audience in Vancouver, soon there were "ten thousand more" ...well, maybe not quite that many. But they marched on ...through rehearsals, learning new music, finding affordable venues, performing charitable concerts, touring abroad, representing Canada on the world stage, and managing the business of a hundred members. "Then there's nothing in the world can halt or mar a plan, when stout-hearted men can stick together man to man" ...founding and early members are still sticking together with newer members, belting it out "shoulder to shoulder, bolder and bolder" as we approach four decades of fellowship and joyful singing to you, the audience, who ultimately make it all worthwhile. There are also women at work in the "Friends of the Choir" helping ensure their "stout-hearted men" succeed in their dashing endeavour. What's the saying… "behind every man..."!
We think you'll enjoy this album of refreshed and contemporary numbers, performed by "stout-hearted men" from all sorts of backgrounds ...office workers, doctors and surgeons, educators, business owners, pastors, technicians, ...we even have a physicist (who serves a great froth on pub night). They all agree that "Hearts can inspire other hearts with their fire" and share their joy of singing with you.
1   Stout-Hearted Men                   Sigmund Romberg; arr. Walter Scotson             2:17
2   Bridge Over Troubled Water    Simon & Garfunkel; arr. Kirby Shaw                 5:10
3   I Dreamed of Rain                    Jan Garrett; arr. Larry Nickel                             3:23
4   Star of the County Down          Trad. Irish; arr. Douglas Wagner                       3:16
5    Down by the Salley Gardens           Trad. Irish; arr. Daniel Rash; solo: Jonathan Quick             3:47
6   The Fields of Athenry                             Pete St. John; arr. & solo: Jonathan Quick         4:46
7   Cape Breton Lullaby                 Kenneth Leslie; arr. Jonathan Quick                   4:16
8   Londonderry Air (Danny Boy) Irish Folk Song; arr. Gwyn Arch                        3:14
9   The Ash Grove     Trad. Welsh; arr. Jonathan Quick; solo: Tom Fell                         4:38
10 Carrickfergus        Irish Folk Song; arr. Gwyn Arch; solo: David Justice                  3:49
11 The Seal Lullaby  Eric Whitacre; words by Rudyard Kipling                                   4:02
12 Song for the Mira Allister MacGillivary; arr. Stuart Calvert; solo: Julian Alphilbert 4:27
13 Calon Lân             Welsh Hymn; arr. Edmund Walters                                             4:10
14 Gwahoddiad         John Tudor Davies                                                                        3:09
15 Eli Jenkin's Prayer                    words: Dylan Thomas; arr. & solo: Jonathan Quick 2:28
16  Bring Him Home      Schonberg, Kretzmer & Boublil; arr. John Leavitt; solo: Julian Alphilbert         3:53
17 Royal Hudson       Dave Baker; arr. Larry Nickel                                                       2:49
Total Minutes   63:43
Jonathan Quick, music director  •  Karen Lee-Morlang, piano
recorded by Don Harder - post production Don Harder & Jonathan Quick
recorded in Vancouver, BC