Community Outreach
VWMC Community Outreach is a community service offered to provide the opportunity for groups or individuals who may not have the means to attend our concerts.
Choir policy is for 5% of available seats for all VWMC managed concerts to be set aside and offered free of charge for this purpose. The Promotion & Public Relations Committee manages this program. They contact community agencies to offer this opportunity when we have a concert in their area and to provide tickets as requested. If you represent a Community group or you're an individual wishing more information about this complimentary ticket program, email us at [email protected]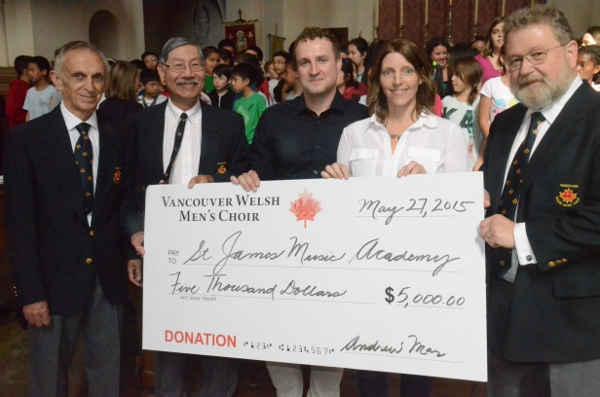 Vancouver Welsh Men's Choir Presents a Cheque to St. James Academy of  Music
On May 27 our choir presented a cheque for $5000 to the St. James Academy of Music as one of our charitable Community Outreach projects for 2015. From left to right are Ashley Dermer (VWMC Publicity Chair), Andrew Mar (VWMC President), Stephen Rathjen (SJAM Choir Director), Kathryn Walker (SJAM Executive Director) and Doug Edwards (VWMC Music Committee Chair). Photo taken by Arthur Gee.
Saint James Music Academy teaches both choral and classical music at no cost to children living in Vancouver's Downtown East Side, Canada's lowest income urban neighbourhood. They believe in the power and the joy of music to change lives and have developed a large enthusiastic choir and three orchestras.
The Vancouver Welsh Men's Choir is pleased to be able to support this wonderful program.